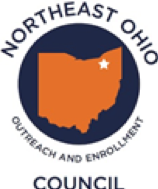 The Northeast Ohio Outreach and Enrollment Council (NEO O&E Council) is a coalition of more than 40 organizations in Northeast Ohio that provide education and/or enrollment assistance for individuals and families interested in health insurance coverage through the Health Insurance Marketplace or the Ohio Medicaid program.
The NEO O&E Council addresses a variety of issues that function systematically in order to reach the uninsured population in Northeast Ohio. These issues include: collaborative Council management; supporting the training and education of the region's assisters from all agencies and organizations; using data metrics to improve outreach and enrollment efforts; coordinated outreach and enrollment activities; and utilizing shared marketing and communications tools and resources.
The Council helps facilitate enrollment events in the community and serves as a resource to provide basic education regarding the Affordable Care Act and new coverage options. Knowledgeable, trusted, and unbiased community assisters are available to serve the Northeast Ohio community.
CHAP has served as the lead convener for the Northeast Ohio Outreach & Enrollment Council and remains responsible for the collaboration of more than 40 partner healthcare, navigator, assister, social service, and local government entities that are engaged in outreach and enrollment activities. The NEO O&E Council meets in-person every other month to address partner concerns, trouble-shoot cases with Cuyahoga County Job and Family Services, and share partner updates.